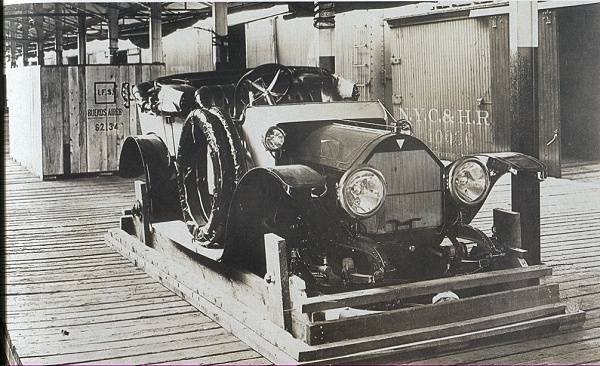 WE RECOMMEND

ENCLOSED

TRANSPORT HOWEVER, IF YOU INSIST ON AN OPEN CARRIER, WE WILL RELUCTANTLY COMPLY. WE USE NATIONALLY RECOGNIZED CAR CARRIERS AND WILL SHOP FOR NOT ONLY THE BEST PRICE BUT, FOR THE FASTEST DELIVERY TIME. CAUTION: THIS IS NOT A TIME TO BE 'CHEAP'. IT HAS BEEN OUR CONSIDERABLE EXPERIENCE THAT A LOWBALL RATE CAN SOMETIMES SPELL DISASTER = WEEKS OR EVEN A MONTH OF WAITING.
WE SHIP VEHICLES ALL OVER THE WORLD. OCEAN FREIGHT RATES ARE BASED ON CUBIC FEET ( THE OVERALL SIZE OF THE VEHICLE) AND WEIGHT, AS WELL AS THE PORT OF ENTRY. WE ALWAYS USE BONDED, TRUSTWORTHY AGENTS WHO OFFER INSURANCE, USUALLY AT 1
1/2
% OF THE VEHICLES VALUE.
MOST ENCLOSED CARRIERS ARE INSURED FOR $1,000,000 PER LOAD (5-6 CARS), WHILE THE SMALLER 1-2 CAR TRANSPORT COMPANIES ARE USUALLY COVERED UP TO $50,000. WE ENCOURAGE YOU TO INSURE YOUR PURCHASE FROM THE MOMENT YOU FUND THE VEHICLE. WE ALSO EMPLOY ONE CAR OPEN AND ENCLOSED HAULERS FOR STATEWIDE DELIVERIES. RATES ARE A BIT HIGHER NOW DUE TO THE COST OF DEISEL FUEL. WEST COAST RATES RUN $1,400 TO $2,200. OCEAN FREIGHT / CONTAINERIZED RUNS, ON THE AVERAGE, $2400. RO/RO AVERAGES $1200 ( ALL / INCLUSIVE). WE ALSO SHIP ENCLOSED LOCALLY ANYWHERE IN FLA. / GEORGIA.
WE WANT YOU HAPPY – YOU CAN TRUST CLASSIC DREAMCARS TO GET YOUR NEW
"DREAMCAR"
TO YOU AS QUICKLY AS POSSIBLE !


Classic
DREAMCARS
Mount Dora, Fla.
(352) 217-9868
www.
classicdreamcars.com
352-217-9868
OR TRY US BY E-MAIL: "
classicdc@aol.com
".