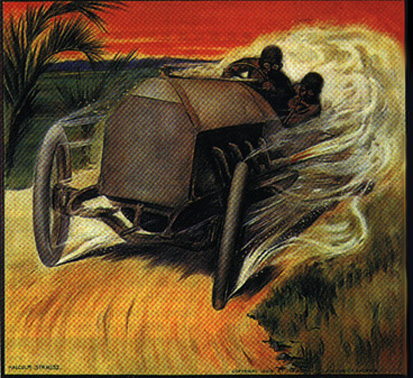 OUR CREDO   
THE DREAMCAR CREDO


"Give The Customer a Great Value ! "
You Really Do… Get Exactly What You Pay For!


Like shopping for a fine bottle of wine…you can buy 'rot gut' Thunderboid or you can buy a Vintage Merlot. We ask you to understand that we go to a great deal of effort to seek out the very best value that money can buy. If a car isn't absolutely 'dead nuts' and we are aware of it, we will tell you up front. We also know some dealers mark their cars way over the asking price and then discount them to make the buyer feel like he or she 'got a deal'. We don't play that game.
What is a classic car worth? Like an oil painting, it is worth what the individual decides to pay to become connected to it. You can buy a $700 1957 Chevy or a $157,000 1957 Chevrolet ! Whether it's a yacht, a house or an oil painting, it's just fiberglass on water, cement blocks on dirt, or oil on canvas until the individual becomes '
connected'
. Some of our cars can 'seem' overpriced but, it's all relative to condition and the market. Unless you have actually flown all over the country shopping or understand the quality & variety of the cars we offer, please don't arbitrarily pre-judge our cars or prices.
Evaluation Books
: They make an excellent guide, but
"books do not buy cars- people do"
. In some cases, the books cannot follow the market fast enough and do not fairly indicate the current market of the "Hot" Classics. We try very hard to narrow our sites to sell 'special' ( heavily optioned ) cars in excellent condition. I think you will find physically comparing our cars Nationwide, we offer a superb value.
Our Format
1. Buyers need to realize: there isn't a "wholesale" source for these fine classics. The 'Auctions' have proven the place NOT to buy a Classic Car unless you want to pay over retail. We care out there searching just like you. What we have is the advantage of having the time to shop 24 / 7, and being able to source an available carway before most buyers even pick up the magazine or newspaper it's advertised in.
2. We use several trusted, Professional Surveyors who go to great lengths to drive / fly-search, survey and locate the best cars we can find all across in the Country. We then have them shipped here from all four corners . Some are even 'updated' (re-restored) on arrival.
3. For the most part, we use two Nationally Recognized Evaluation Guides to price the cars fairly. If you are 'surprised' by some of today's current prices… Even with the Recession Classic Cars have proven to be a better investment than the Stock Market or your 401k Plan. Just read about it in Wall Street Journal, USA Today, Forbes or Time Magazine.
For those of you still living in the past…that have been searching for years for that elusive 'Barn Car' ( the one "the kid left in the garage when he left for Vietnam")…
For the guy who still believes he can buy a frame-off, matching number 1967 GTO, 4-Speed Convertible or a mid-year Corvette Convertible L-79 for a $ong….
God Love Ya – Goferit !
We're not saying there's not ONE guy out there living in a cave. If you have the time to spend… hundred's of man hours looking, and can take time off from work to fly and waste airfare on hunting down those 'air cars'…please don't let us stand in your way. But, for now, we took all the work out of finding what we fell is the "perfect car"…the car that may be- the car of your dreams. Sorry but, we can't do this without making a fair profit. We are truly attempting to 'do it right" and offer really great values in collectible cars. We only ask you to respect that. Thanks for considering Classic Dreamcars for you next purchase…and, thanks for taking the time to read all this. We are just trying to help you from wasting time. I hope we can make your dream come true….
Kerry M. Bogard, Pres.
http://www.classicdreamcars.com